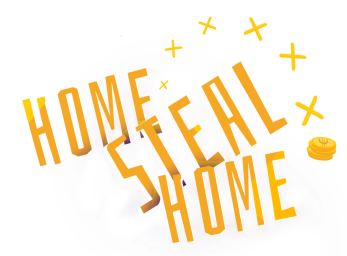 Home Steal Home
A downloadable game for Windows
UPDATE : New Hard Level
Steal everything you can without being spotted!
Bring the stuff to the window where the truck is waiting.
But be careful ! The old lady will only hit you one time before getting her shotgun ready. Be ready to run !
The remaining time is displayed in the top right corner of the screen.
Leave by staying in the exit area in front of the truck.
Controls : Keyboard Arrows and Space Key, Directional Pad and A Button.
Made by the Team Cif-Eleven for the Global Game Jam 2019 Strasbourg !
Thanks to the Alsace Digitale & Epitech crew for this event and the Shadok for hosting us.
---
MISE A JOUR : Nouveau niveau difficile
Ton objectif : vole le maximum de choses sans être repéré !
Ramène les objets à la fenêtre où le camion attend.
Attention ! La vieille ne frappe gentiment qu'une seule fois.
Ensuite, elle prépare son fusil, et là vaut mieux déguerpir.
Le temps restant avant l'arrivée des flics est affiché en haut à droite.
Sors du niveau en restant dans la zone exit devant la fenêtre.
Contrôles : Flèches du clavier et touche espace, pad directionnel et bouton A.
Réalisé par l'équipe Cif-Eleven pour la Global Game Jam 2019 Strasbourg !
Merci à l'équipe Alsace Digitale & Epitech pour l'événement et au Shadok pour l'hébergement.
Download
Click download now to get access to the following files:
HomeStealHome_2019-05-10_20h17_Final_v1.zip
67 MB